Located in the Northwestern corner of Maryland, in the heart of the Appalachian Mountains, in the small town of Friendsville, where conditions are perfect for growing wild simulated ginseng and goldenseal. Our ginseng is prized for its wild characteristics, taste, color, texture and high concentration of Ginsenoside.

We offer a spectacular variety of products: Ginseng Capsules, Ginseng Powder, Ginseng Seed, Ginseng Root, Ginseng Rootlets, Ginseng Berry Concentrate, Ginseng Wine, High Quality Ginseng Root and Powder, High Quality Goldenseal Root, Goldenseal Rootlets and Goldenseal Powder.

We are always coming up with new ways for you to benefit from what we have to offer such as our ginseng growing kits for the novice ginseng planter as well as the seasoned ginseng expert, not to mention the wealth of information we will provide you from beginning to end throughout your experience.

Please take the time to browse through the website and enjoy the savings we have to offer. Our mission is to give you a premium high potency product at a reasonable price, with knowledgeable and friendly service.

Larry Harding.
Email: ginseng@hardingsginsengfarm.com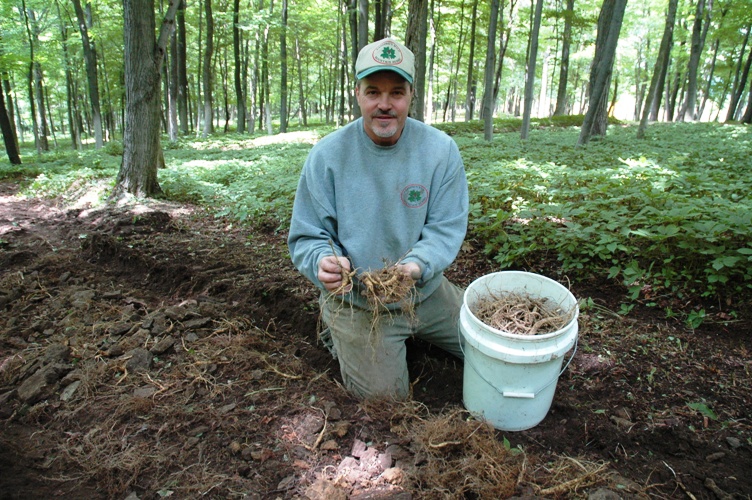 Autumn/Fall is
Just Around the Corner!
Order Now for the 2019 planting season and Enjoy Great Savings!!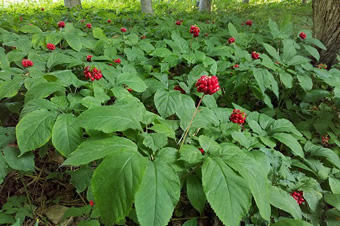 Now is the perfect time to pre-order and take advantage of our great savings for the fall 2019 planting season! All pre-orders of Ginseng Seed, Rootlets and Growing Kits Over $75.00 will include (1.5 oz) of Stratified American Ginseng Seeds FREE!! That's Over 600 Ginseng Seeds Absolutely FREE!!!

Shipping for fall orders of Ginseng Rootlets, Growing Kits/ Seeds will begin the first week in September. ( Weather Permitting ) Please note: When ordering just seeds, if you would like Special Shipping Dates, Please call for Availability.
*Only While Supplies Last*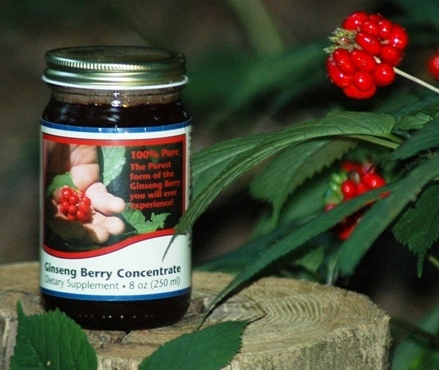 100% Pure American Ginseng Berry Concentrate

Buy two 8oz jars of American Ginseng Berry Concentrate, and receive one 8oz Jar Absolutely Free!!
*While Supplies Last*
(click here)
---
The American Ginseng Museum
The History of American Ginseng
Featuring Photography By: Larry Harding
Appalachian Beginning Forest Farmer Coalition
Interview with a Forest Farmer
Featuring: Larry Harding
Woods Cultivated Ginseng
From the Field to The Forest
Featuring: Larry Harding
Maryland Public Broadcasting
Featuring: Larry Harding
West Virginia Public Broadcasting
Can Ginseng Help West Virginia's Economy?
Featuring: Larry Harding
Whole Foods Market: Video
with Harding's Ginseng Farm
Read about the
Million Dollar Man Shaped Root
"hidden in plain sight amid the forest undergrowth, Larry Harding grows his prized crop"
(Washington City Paper, Franklin Schneider)
Read a feature article on

Ginseng

with information and images

from
(Mountain Discoveries Magazine, written by Dan Whetzel, Photography by Lance C. Bell)

---
Harding's Wild Mountain Herbs


---

6259 Friendsville Road, P.O. Box 53, Friendsville, MD 21531
301-746-5380 ~ FAX (301)746-4516
TOLL FREE
1-800-478-5394

ginseng@hardingsginsengfarm.com