Harding's Wild Mountain Herbs & Kirkwood Winery Introduce
"Ginseng Wine"

To order wine please call Kirkwood Wineries
1-888-498-9463
A fantastic ginseng wine made from our wild simulated
power packed Ginseng!
If you like ginseng than you will love this wine.
You've heard of Love Potion Number 9? Well here it is folks.
A ginseng wine with zip, get up and go!!!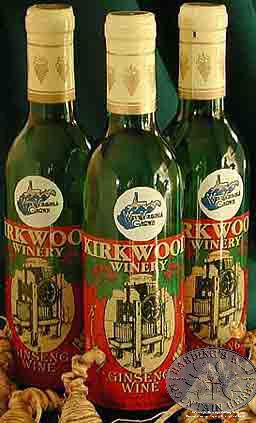 750ml Bottles $21.49 plus Shipping & Handling
You Must be 21 years old to purchase this product
Due to strict liquor license laws we are unable to sell the wine directly.
You must call Kirkwood Winery for purchasing.

All Text and Graphics are ©Harding's Wild Mountain Herbs 2009
All Rights Reserved ~ No Usage or Reproduction is Allowed Without Expressed Written Consent.










Harding's
Wild Mountain Herbs
P.O. Box 53
Friendsville, MD 21531
301-746-5380
Toll Free
1-800-478-5394